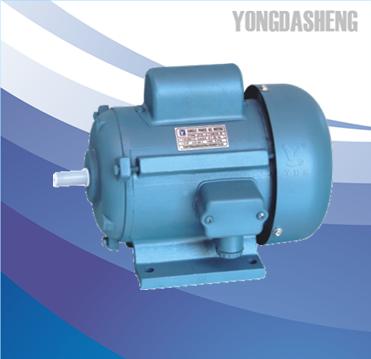 JY series Single Phase Capacitor Start Induction Motor
JY series single-phase capacitor start induction motor is suitable for any where a larger starting
torque is required and the starting current to be limited. It is used as driving motor of air compressors,
refrigerators, medical apparatus and other small machines in which full-load stating is demander.
These series motors are of totally encloused fan-cooled and having three frame sizes 09,1 and 2.
The frame are made of cast iron or cast aluminium according to the requests.

Protection type: IP44 Insulation class:B
Cooling type: IC0141 Rated frequency: 50Hz
Operating Conditions:
Ambient temperature: -15'CAltitude: not exceed 1000m
Rated voltage: 380V ot any voltage between 220V - 760V
Rated frequency: 50Hz 60Hz
Protection class: IP44, IP54, IP55
Insulation class: B, F
Cooling method: ICO141
Duty: S1 (continuous)

This range of motors are made to IEC standards and incorporate many fine
features. These are superior motors that can be used in a multitude of
applications in the commercial industrial building service and water treatment
field where superior service quality and reliability is demanded.